Georgia country offers tourist attractions to keep courageous traveller interested. What are the best things to do in Georgia?
Visit Old Tbilisi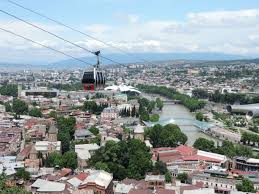 You should spend time exploring Tbilisi Old town. There is a lot to see in old Tbilisi. You get to enjoy the view of attractive villas with intricate artwork and the twisted fairy tale churches as you wander around the narrow old streets.
Get the best experience when you take a cable car to Narikala Fortress high above old Tbilisi. The spectacular ride up allows you to see the beauty of the Old town. It is also an attraction at night as its lights make it an impressive spectacle view. There are great restaurants to have dinner and get a taste of excellent Georgian wine. 
Visit Gergeti Trinity Church
Gergeti Trinity Church is one of Georgia's most iconic spectacle. This ancient church dates back from the 14th century, stands in the Greater Caucasus mountains, in the North of the country. It is listed on sixth place in the list of the world's most stunning churches by The Telegraph. The place is truly a stunning location so make sure you have your camera ready to snap memorable moments there.
Visit Gelati Monastery
This beautiful Monastery is listed as a World Heritage site by Unesco. Gelati Monastery is located just 11 km west from Kutaisi. It is famous for its medieval architecture as well as for the wonderful mosaics and frescos within. Most visitors come here to see the impressive mosaics and frescos, as well as the yard of the monastery where King David the Builder was buried.
Visit The Stalin Museum
A stop here is worth a visit. Former Soviet ruler Joseph Vissarionovich Stalin was born in Gori, Georgia in 1878. This museum is a homage to Stalin. Various rooms highlight the life of the dictator.